Have you ever been curious about the journey your kitchen and bathroom countertops go through before becoming a part of your home?
Here's a brief explanation of how our quarry materials are processed and handled, from their origin in the mountains of Parana, Brazil to their final destination in our showroom in Tampa, FL, U.S.A.
Granites, Dolomites, Marbles, and Limestones are typically found near the earth's surface, making them easier to extract. To achieve transportable sizes, small holes are drilled in the shape of the desired block size, or in our case, following the natural movement of the material to ensure optimal quality for the final product. Explosives are then placed into these holes in the upper part of the mountain, creating just enough force to separate the block from the bedrock without damaging it. Finally, top-notch machines are used to transport the raw blocks to our fabrication site.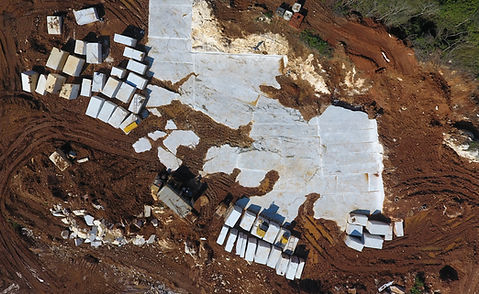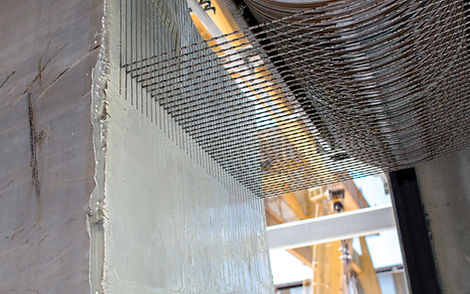 FROM BLOCK TO GRANITE SLAB
Upon arrival at our stone cutting facility, each block is carefully sliced into slabs using a giant diamond wire blade saw. The slabs are either 2cm (about 3/4″) or 3cm (about 1 1/4″) thick. This process involves making many cuts into the stone at once, which can take up to an hour for each foot of the block. As you can imagine, cutting an entire 10′ x 5′ x 10′ block into slabs is a time-consuming process.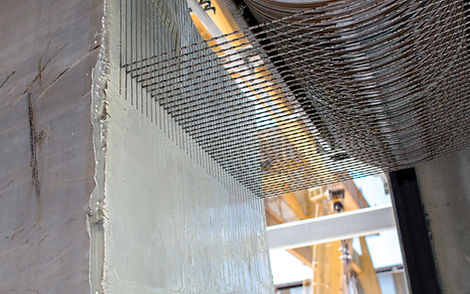 After the large blocks of granite are cut into book-matched slabs, the surfaces must be finished to enhance the natural beauty of the material and create a smooth texture. Slabs can be finished in three ways: Polished (gloss finish), Honed (silk texture), and Leather (rustic texture). This process involves running the slabs horizontally through slab polishing machines, which leave the slabs with smooth edges and the desired finish.
Once the slabs are polished, they are bundled together in groups of 6 to 7 slabs, always in the order in which they were cut from the block. This ensures that the book-match effect and required sequence can be maintained for projects. These bundles are then placed in large containers and transported to our facilities in Tampa, FL via cargo ships and trucks. Here, our exclusive and unique slabs are waiting for you to fall in love with them. Please feel free to explore our selection below.